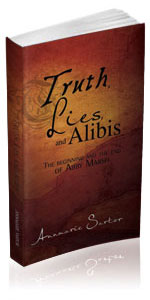 Truth, Lies, and Alibis - Book One
The beginning and the end of Abby Marsh
This book is a thrilling tale of a young woman - a member of the international diplomatic set - whose world is not what it seems. And just when you think you have it all figured out, the author throws a surprise ending that will literally have you jump out of your seat.
Privileged only child of a powerful U.S. diplomat, Abigail "Abby" Alexis Marsh led a charmed life, growing up in the lap of luxury. Independent, beautiful and intelligent, Abby was the beneficiary of the finest education, and unique training in languages and ancient martial arts.
Just as she is about to embark on the most exciting phase of her life, her beloved father is murdered, leaving her completely alone and clinging to her sanity. As she stumbles through each day, a mysterious and magnetic stranger enters Abby's life, waking her from her walking coma.
Through bizarre twists of events and revelations, Abby discovers her father may not be who she thought he was, and that her lover is keeping a lethal secret.
Terrified to be with him, yet more terrified to be away from him, Abby attempts to play a dangerous game to uncover her father's secret past, her lover's clandestine vocation and the very meaning of everything she's ever believed.
Buy Now
Return to Top